++++++ +++++ ++++ +++ ++ + MUSICA > HOME-VIDEOS
Mariah Carey
MTV™ Unplugged +3 ----------------------------------------------------------------------------------------------------------------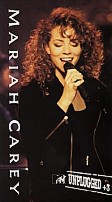 "Presentarme en vivo en MTV™ 'Unplugged' fue una experiencia única para mi. Me sentí extremadamente cerca de la audiencia porque fue realizado en un espacio muy íntimo. Llevamos los arreglos musicales a sus formas más simples al utilizar solamente instrumentos acústicos en todas las canciones. Espero que lo disfruten tanto como yo lo disfruté." ~ Mariah Carey.



Este concierto fue grabado en vivo desde el Kaufman Astoria Studios en la ciudad de New York el 16 de marzo de 1992. Contiene música acústica en vivo del programa "Unplugged" de MTV™.
El home-video MTV™ Unplugged +3 también incluye comentarios de Mariah Carey y escenas de sus comienzos como artista. Además incluye como adiciones especiales los videos musicales de los temas Make It Happen, Can't Let Go y Emotions (Remix).


Una porción de las ganancias obtenidas por este video y también por las ventas del CD, Mariah Carey: MTV™ Unplugged EP, fueron donados por Mariah Carey y su sello discográfico, Columbia Records, a varias asociaciones benéficas tales como el United Negro College Fund, la American Foundation for AIDS Research y la TJ Martell Foundation.


++ Lanzamientos Comerciales - - - - - - - - - - -

+ Fechas de Lanzamiento ~
Agosto,'92 (Estados Unidos)

VHS ~ CV 491332. Estados Unidos. Columbia Music Video.
Video CD ~ MVCD 49133. Estados Unidos. Columbia Music Video.
LaserDisc ~ MLV 49133. Estados Unidos. Columbia Music Video.
1. Emotions
2. If It's Over
3. Someday
4. Vision Of Love
5. Make It Happen
6. I'll Be There
7. Can't Let Go
The 'Emotions' Videos:
8. Make It Happen
9. Can't Let Go
10. Emotions (Extended 12" Version)
[ 8, 9, 10 ] Videos Musicales.
[ 3, 6 ] También incluidos en el home-video #1's de Mariah Carey.